A Certain Ratio - acr:set - CD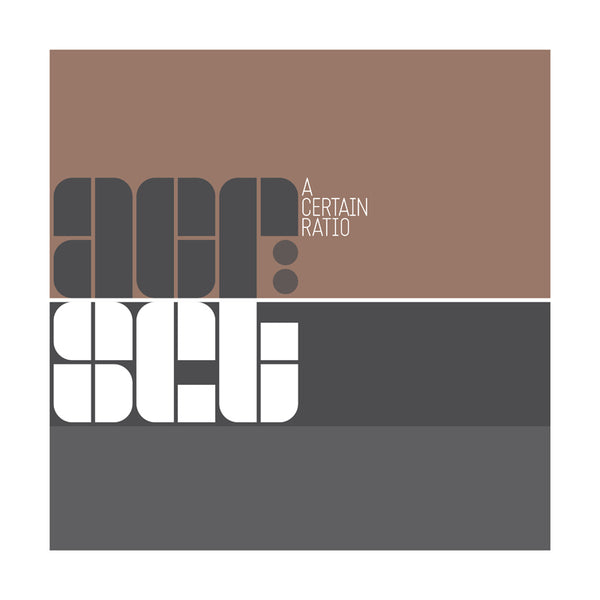 A Certain Ratio - acr:set - CD
Catalogue Number: CDMUTEL28
Release Date: 10 October 2018
A CERTAIN RATIO have shared their first new music since 2008's Mind Made Up and announce the release of acr:set, a career spanning compilation.
'Dirty Boy' is a classic slice of A Certain Ratio pop funk and features the voice of Tony Wilson preparing the band for 'The Fox' recording session in his own inimitable fashion, plus vocals from Barry Adamson, who returns a favour to the band after they reworked 2017's 'I Got Clothes'.
The two new tracks, 'Dirty Boy' and 'Make It Happen' were recorded at Oxygene in Manchester, and both appear on the new best of compilation, acr:set. The album is made up of tracks that feature in the band's incendiary live show (hence the title), and includes rare 7" and 12" mixes alongside the two new recordings and sleeve notes by DJ and writer Dave Haslam.
A Certain Ratio embraced the ethic and culture of the late seventies post-punk explosion, but sounded like nothing else around them and refused to fit in. Formed in Manchester in 1978, the band has had various members throughout their career, with a core line-up of Jez Kerr, Martin Moscrop and Donald Johnson that remains today.
An influence on generations of musicians - from LCD Soundsystem, Happy Mondays, Franz Ferdinand, ESG, Factory Floor, Sink Ya Teeth and Andrew Weatherall – the band's involvement in cultural touchpoints is sometimes unexpected: a recent exhibition centred on Stockport's Strawberry Studios uncovered the tape box, but not the tapes, from a recording session with Grace Jones back in 1980 and Madonna's live debut was supporting A Certain Ratio at the infamous Danceteria in New York in 1982 (where she was working as a hatcheck girl), and sometimes expected, given the unique time and place that they formed – Manchester in 1978, one of the first acts to sign to the newly formed Factory Records.
The band released their first, Martin Hannett produced, single for Factory in 1979 and went on to be hailed universally as pioneers of what became known as "punk funk" thanks to the success of their second single, 'Shack Up', on both sides of the Atlantic.
Five albums were released on Factory – The Graveyard and the Ballroom (1979), To Each…(1981), Sextet (1982), I'd Like To See You Again (1982) and Force (1986). Following the release of Force, the band moved to A&M for two releases - Good Together (1989) and acr:mcr (1990) and, after the leaving the major, released Up In Downsville (1992) and Change the Station (1997) on Robs Records, the label set up by New Order's manager and Factory's director, Rob Gretton, an important catalyst in the Manchester scene.
Their sound is not easily pigeon holed and their influence can never be understated. The band introduced the avant-garde elements of funk, jazz, electronics, tape loops and technology to the pop song, wrapping it in a post punk aesthetic, adding great clothes and the coolest haircuts.
Do The Du (Casse) (1979) 
Wild Party - 12" version (1985) 
Flight - 12" version (1980) 
And Then Again - 12" version (1980) 
Forced Laugh (1981) 
Wonder Y (1992) 
Mickey Way (12" version, 1986) 
27 Forever - 7" version (1991) 
Won't Stop Loving You - Bernard Sumner mix (1990) 
Good Together - 12" version (1990) 
Be What You Wanna Be - 12" version (1990) 
Shack Up - 7" version (1980) 
The Fox - US 12" version (1980) 
Knife Slits Water - 7" version (1982) 
Si Firmir O Grido (1986) 
Dirty Boy Extended - featuring Barry Adamson (2018) 
Make It Happen (2018)