Depeche Mode - Video Singles Collection - 3 x DVD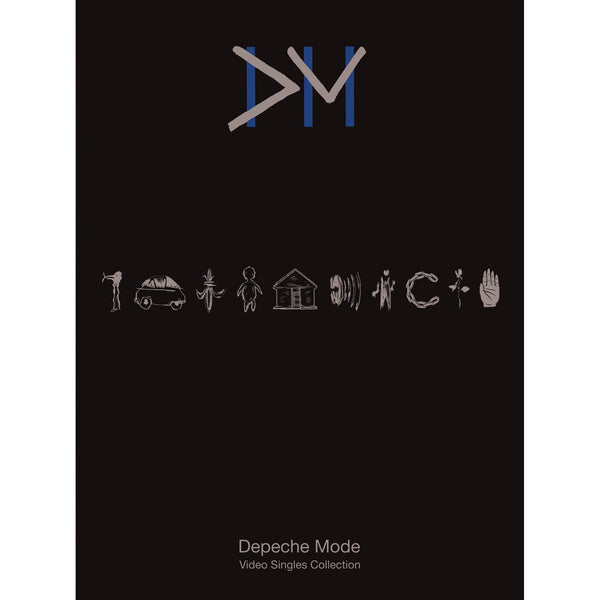 Depeche Mode - Video Singles Collection - 3 x DVD
Depeche Mode's Video Singles Collection is the definitive 3DVD library anthology containing more than four hours of the post-punk pioneers' groundbreaking music videos (and two-plus hours of audio commentary). The 3DVD set presents more than three decades worth of Depeche Mode's international hit singles as lensed for the group's mind-blowing progression of innovative and provocative music videos directed by a who's who of cinematic visionaries including Julien Temple, Anton Corbijn, D.A. Pennebaker, John Hillcoat and others.
Video Singles Collection is the first in a series of band-approved retrospective projects examining Depeche Mode's extraordinary career and effect on pop culture and marks the first time that DM's video singles--from 1981 to 2013--have been compiled together in a single anthology.
The set includes 55 newly restored versions of the essential video singles in the DM canon in addition to four rare alternate videos and new commentary on specific individual clips, recorded by members of Depeche Mode especially for this release.
This release is in NTSC format.
DVD1.
Videos:
Just Can't Get Enough
See You
The Meaning Of Love
Leave In Silence
Get The Balance Right
Everything Counts
Love, In Itself
People Are People
Master And Servant
Blasphemous Rumours
Somebody
Shake The Disease
It's Called A Heart
Stripped
But Not Tonight
A Question Of Lust
A Question Of Time
Strangelove
Never Let Me Down Again
Behind The Wheel
Audio Commentaries:
Just Can't Get Enough (Dave)
Just Can't Get Enough (Fletch)
Just Can't Get Enough (Martin)
See You (Fletch)
See You (Martin)
The Meaning Of Love (Martin)
Get The Balance Right (Dave)
Master And Servant (Fletch)
Shake The Disease (Fletch)
It's Called A Heart (Martin)
Stripped (Dave)
Stripped (Martin)
A Question Of Time (Martin)
Strangelove (Dave)
Strangelove (Fletch)
Never Let Me Down (Dave)
Never Let Me Down (Fletch)
Behind The Wheel (Dave)
Behind The Wheel (Fletch)
DVD2.
Videos
Little 15
Strangelove '88
Everything Counts (Live)
Personal Jesus
Enjoy The Silence
Policy Of Truth
World In My Eyes
I Feel You
Walking In My Shoes
Condemnation
One Caress
In Your Room
Barrel Of A Gun
It's No Good
Home
Useless
Only When I Lose Myself
Dream On
I Feel Loved
Audio Commentaries:
Personal Jesus (Fletch)
Enjoy The Silence (Dave)
Enjoy The Silence (Martin)
I Feel You (Dave)
Walking In My Shoes (Martin)
In Your Room (Martin)
Barrel Of A Gun (Martin)
It's No Good (Dave)
It's No Good (Fletch)
DVD3.
Videos:
Freelove
Goodnight Lovers
Enjoy The Silence '04
Precious
A Pain That I'm Used To
Suffer Well
John The Revelator
Martyr
Wrong
Peace
Hole To Feed
Fragile Tension
Personal Jesus 2011
Heaven
Soothe My Soul
Should Be Higher (Live)
Bonus Videos:
People Are People (12" Version)
Stripped (Unreleased Alternate Cut)
But Not Tonight (Pool Version)
Soothe My Soul (Extended)
Audio Commentaries:
Freelove (Martin)
Suffer Well (Dave)
Wrong (Dave)
Wrong (Fletch)