Erasure - Wild! (30th Anniversary Deluxe Edition) - 2CD Bookpack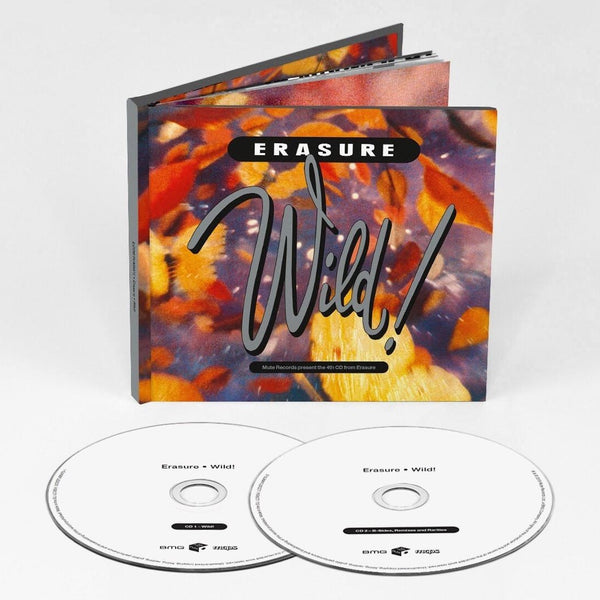 Erasure - Wild! (30th Anniversary Deluxe Edition) - 2CD Bookpack
Release Date: 29th March 2019
Originally released in October 1989, the classic Erasure album 'Wild!' is the band's fourth album and their 2nd UK number one.
Featuring the four hit singles 'Drama!', 'You Surround Me', 'Blue Savannah' and 'Star' the album is re-mastered and re-issued as a deluxe 2CD version in a hard back media book format with rare images, original photography by Pierre et Gilles and brand new sleeve notes.
The exclusive bonus disc features five unreleased tracks including a brand new remix by Richard Norris (The Grid / Beyond The Wizard's Sleeve) , a recently discovered unreleased mix of 'How Many Times?', rare 12" remixes by Mark Saunders. Gareth Jones and Mute supremo Daniel Miller (with Phil Legg), cover versions (including the fan favourite 'Supernature') and exclusive live tracks recorded at London Arena, Docklands in December 1989.
CD1.
Piano Song (Instrumental)
Blue Savannah
Drama!
How Many Times
Star
La Gloria
You Surround Me
Brother and Sister
2000 Miles
Crown of Thorns
Piano Song
CD2.
Sweet, Sweet Baby (The Moo-Moo Mix)
Drama! (Richard Norris Remix)*
Blue Savannah (Mark Saunders 12" Remix)
Piano Song (Live at The London Arena)*
Runaround On The Underground (Remix)
How Many Times (Alternative Mix)*
Supernature (Daniel Miller and Phil Legg Mix)
Star (Soul Mix)
No GDM (Unfinished Mix)
Drama! (Act 2)
Brother and Sister (Live at The London Arena)*
Dreamlike State (7" Acapella Mix)*
You Surround Me (Gareth Jones Mix)
91 Steps (6 Pianos Mix)
* Previously unreleased mixes
This is a BMG Rights Management release.