Laibach - Iron Sky - Director's Cut - The Original Film Soundtrack - double Vinyl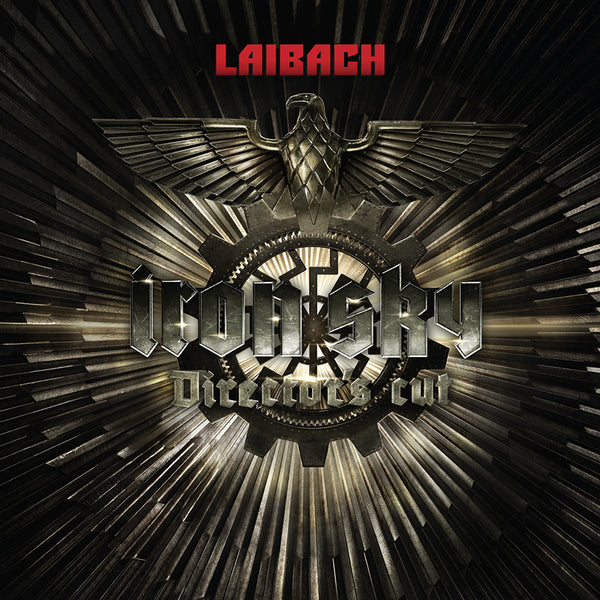 Laibach - Iron Sky - Director's Cut - The Original Film Soundtrack - double Vinyl
Catalogue Number: STUMM344
Release Date: 16 December 2013
Deluxe Limited Edition Gatefold Vinyl
Double Vinyl
New music created for the film
Iron Sky Director's Cut Soundtrack is the follow-up to the critically acclaimed 2012 Iron Sky Laibach Original Soundtrack.
In 2012 Laibach were commissioned to compose the music for the Finnish dark comedy Iron Sky, which achieved cult-status and raised more than $1 million via crowdfunding.
The film plot revolves around the last moments of World War II when a secret Nazi space program evaded destruction by fleeing to the Dark Side of the Moon. During 70 years of utter secrecy, the Nazis construct a gigantic space fortress with a massive armada of flying saucers, getting ready for the invasion of Earth!
The Director's cut is the ultimate version, the full vision of the director, featuring 20 additional minutes of never before seen footage, loaded with material left out from the original theatrical version and more epic space battles and special effects. all wrapped in the grandiose Laibach score.
The new soundtrack is stripped of the added film dialogues that were present on the Original Soundtrack, therefore giving a new perspective to the sound that comes on double vinyl for the ultimate listening experience.
For 2014, Laibach are preparing a new album, called SPECTRE that sees the group 're-inventing' itself in a newly-born, yet polished and solid formation, calling into question all the rigid and cemented interpretations (and prejudices) about itself, about its music, intentions, philosophy and ideology.
LP1:
Take Me to Heaven
Problems Big Time (Die schwarze Sonne)
Classroom (Spaceship Hangar)
Kameraden, wir kehren heim!
White House
Ein Spion von der Erde
Washington's Escape With Interlude
Dr. Richter's Laboratory
Vivian's 'Untergang'
Klaus und Renate (part 1)
Klaus und Renate (part 2), Lesbensborn
Into The Machine
Renate and Washington At The Lab (part 1)
Renate and Washington At The Lab (part 2), Albinising Operation
Nazi Expedition To Earth
Renate's Surprise
Peace Lovin' Brother's Rap (Extended)
Vivian's Dilema
The Good Times For The Bad People
Renate's Message Of Peace
The Answer To The Question
The Moon Nazis Are Coming
125' Later Ragtime
Renate's Revelation
A Good War Blues
LP2:
Das B-Maschine
Die Flotte ist beriet
Der Führer's Last Waltz
Space Battle Suite
Moon Attack Potpourri
Götterdammerung muss fliegen
Fight Between Washington And Dr. Richter
Klaus and Renate's Final 'Rendezvous'
The Fall Of Götterdammerung
America
Under The Iron Sky
End Title (We Leave in Peace)
Hymm To The Black Sun (rmx)